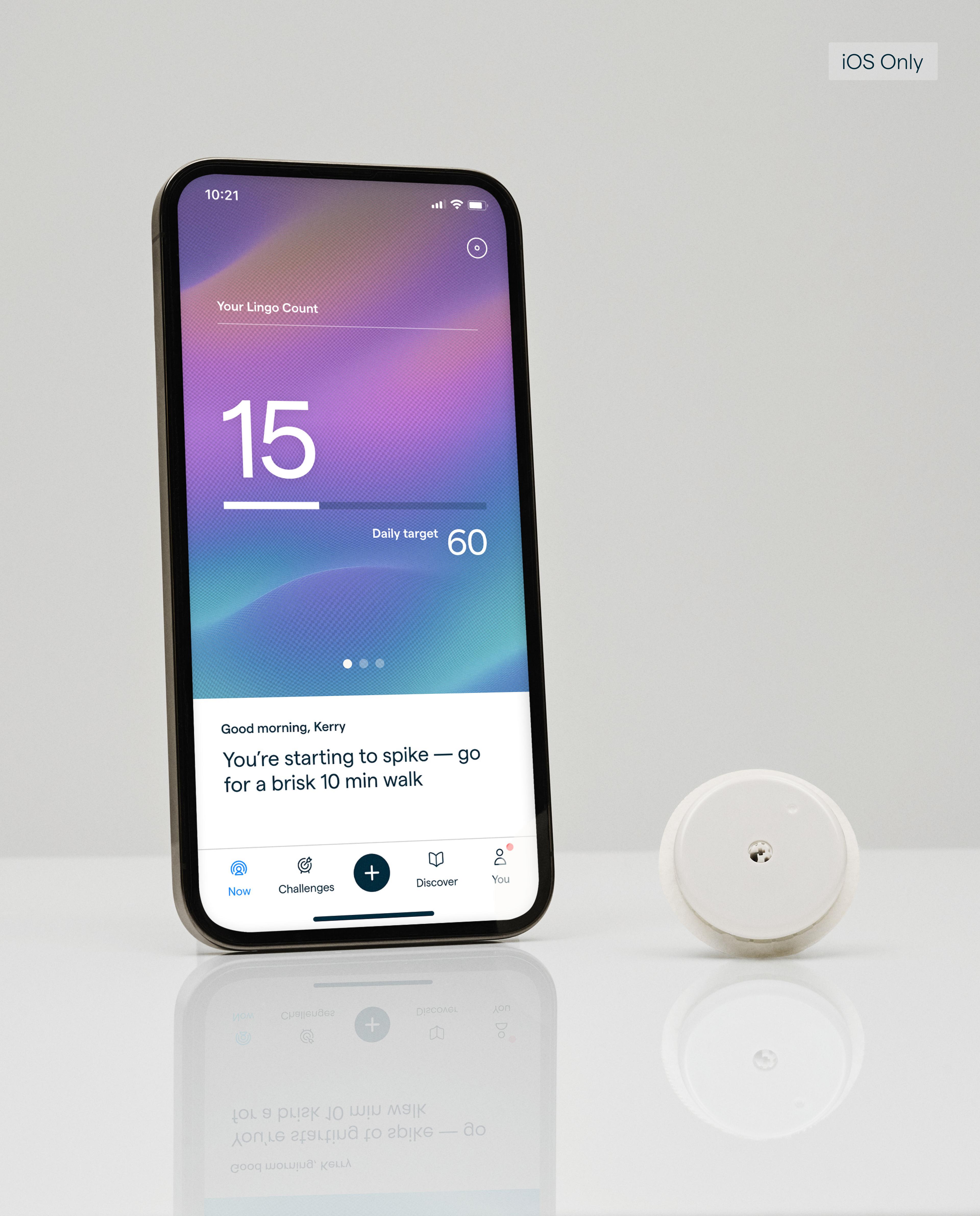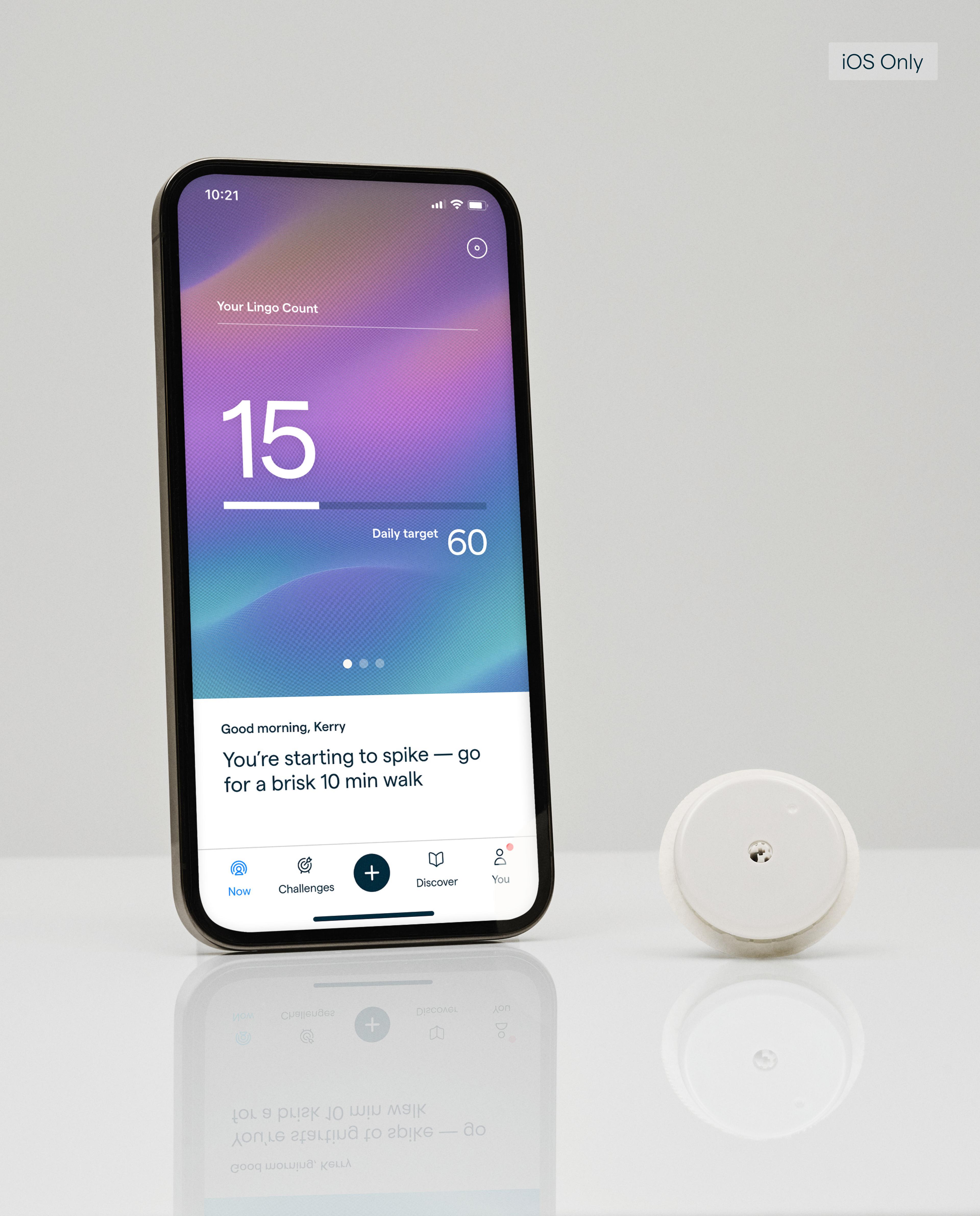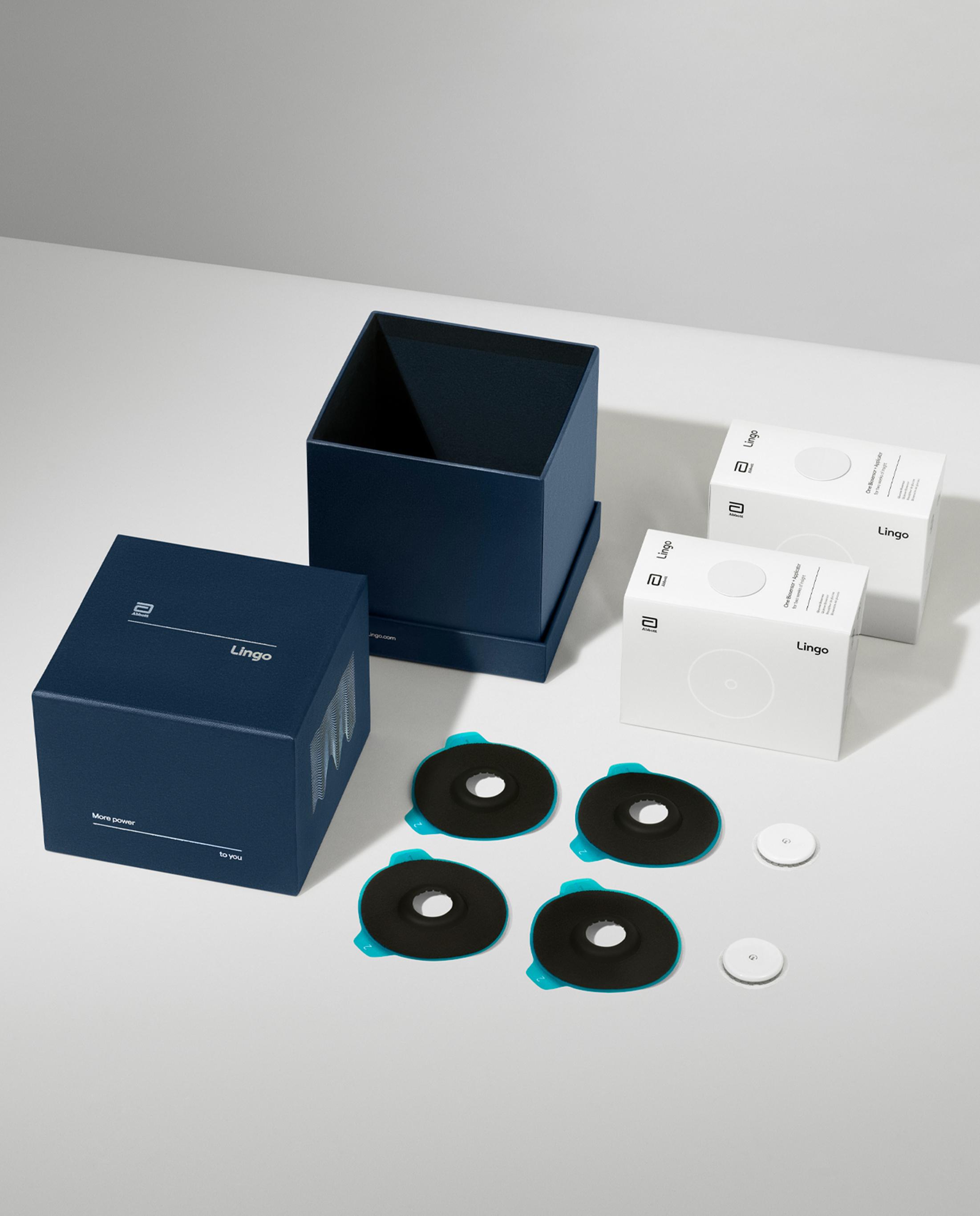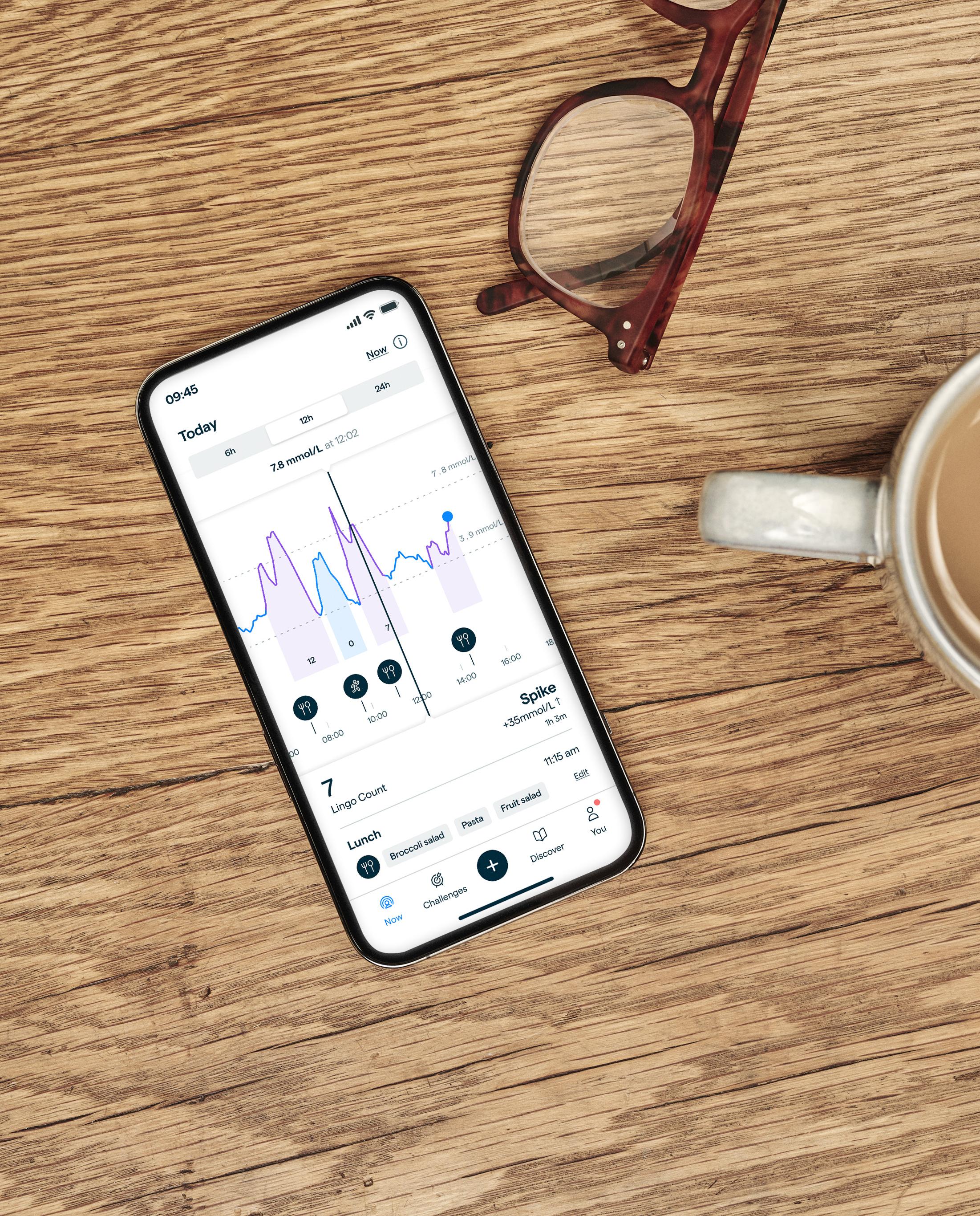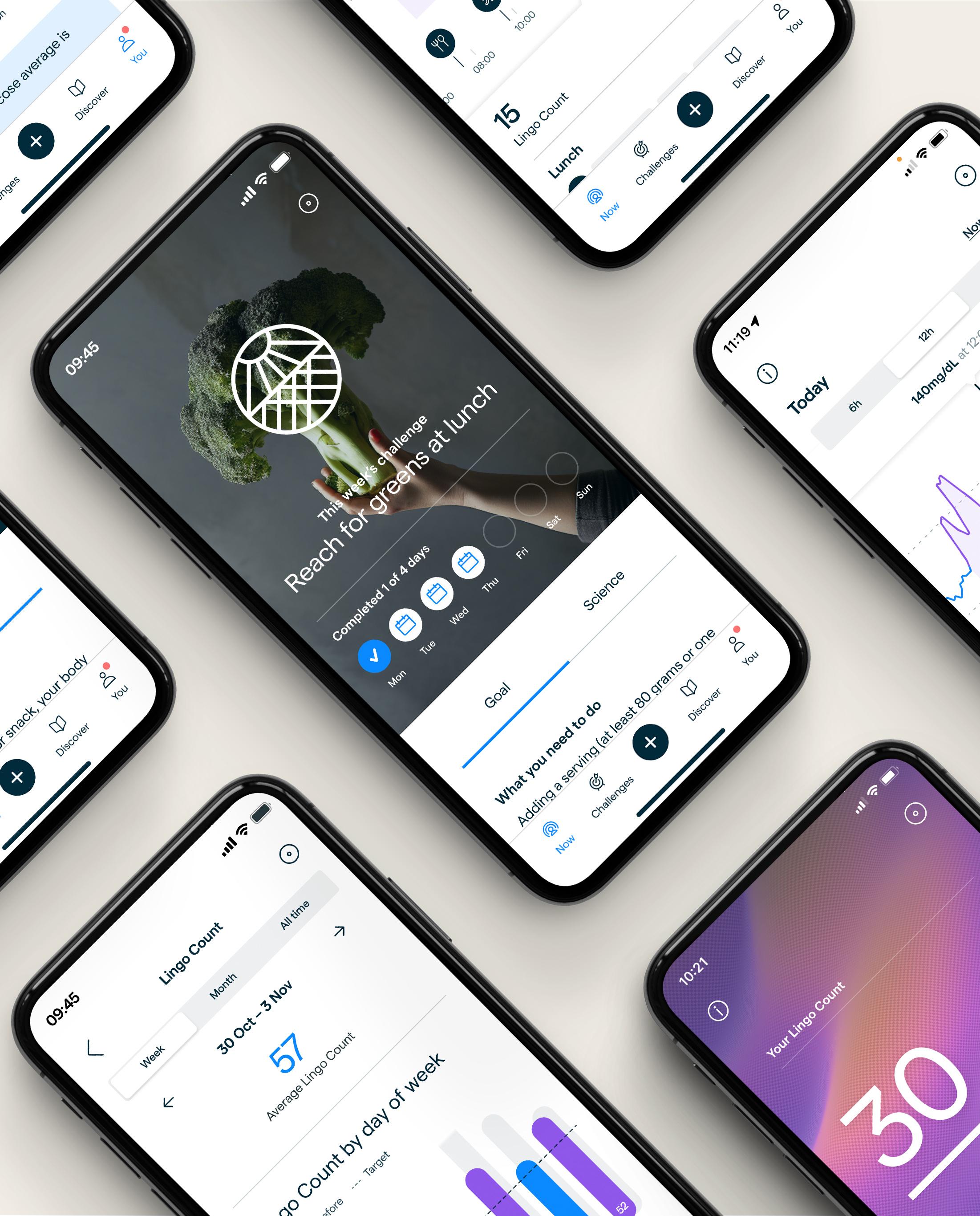 Begin your Lingo journey
Experience the future of metabolism ownership with Lingo, your ultimate biosensor and app combo
Use Lingo25 for 25% off your first purchase*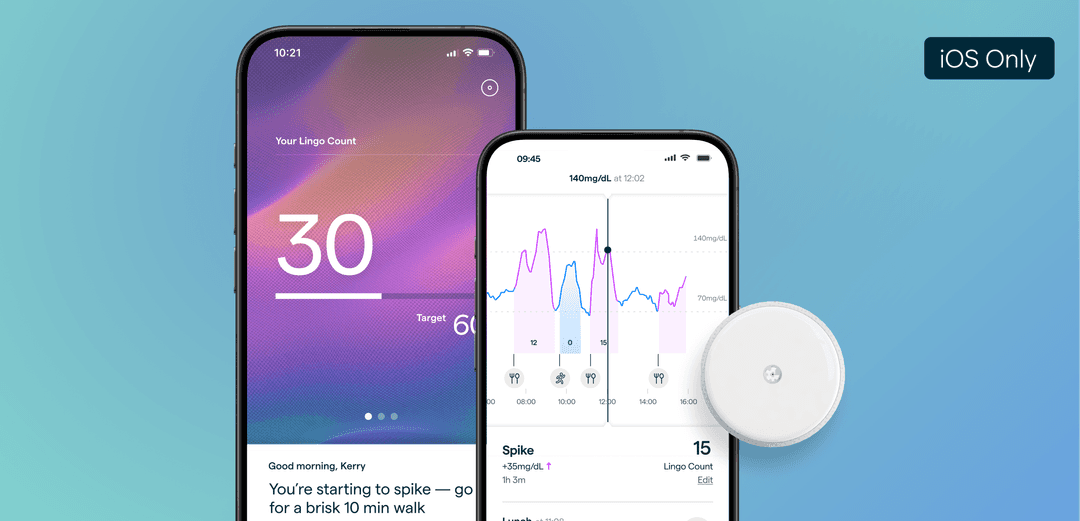 Lingo Program for 2 months† combining our science with your personal insights
Receive 4 continuous glucose monitors (CGM). Box of 2 biosensors shipped monthly†

Real-time data stream; producing helpful tips, notifications, weekly reports with focus areas and goals

Exclusive lessons and content created by world-leading doctors

30-day money-back guarantee‡
---
*Applies to first purchase only; does not apply to auto-renewal.

†Each month is equivalent to 28 days.
Plan auto-renews at £120 per month after 2 months.
‡Applies to new customers; first shipment only; see our Terms of Sale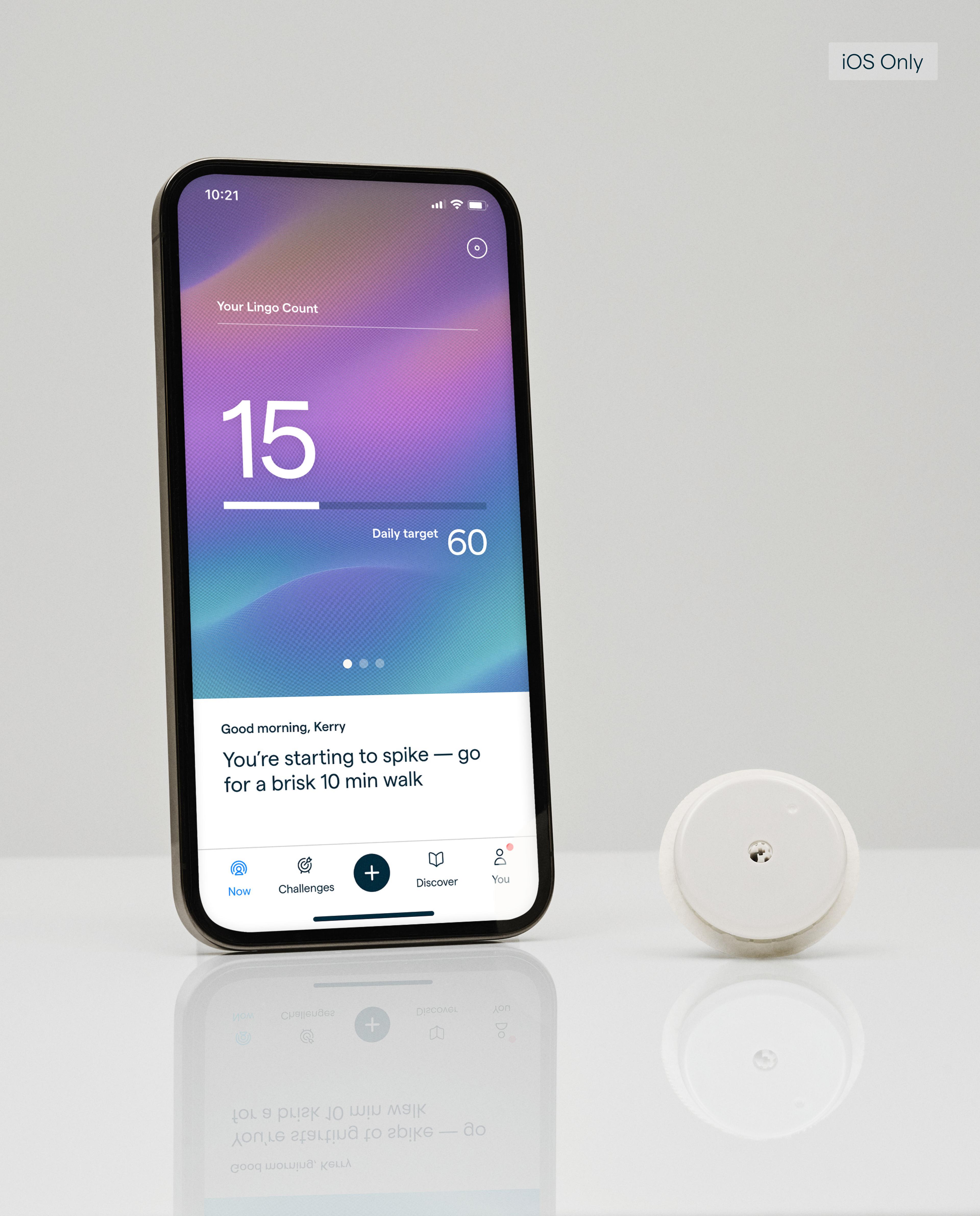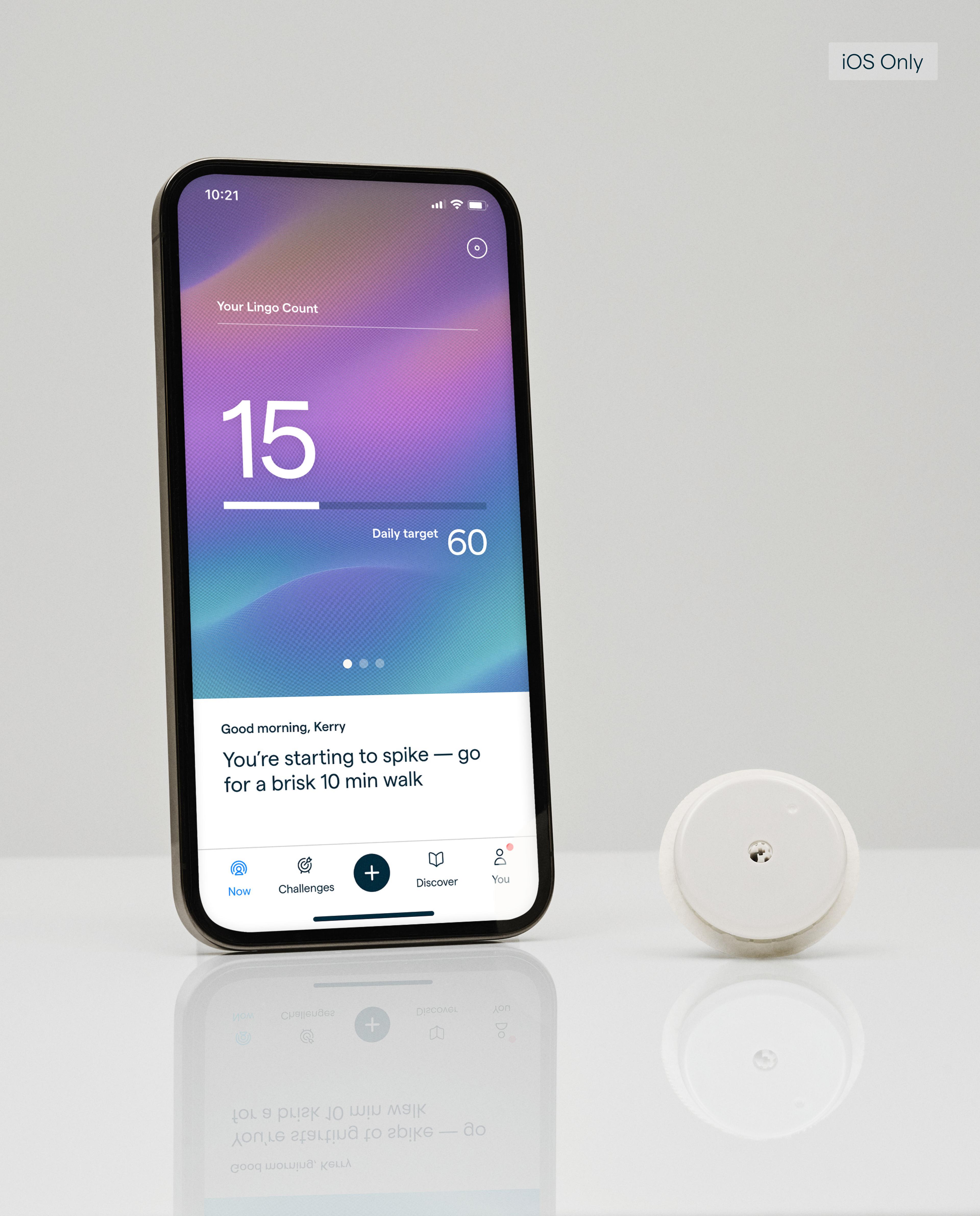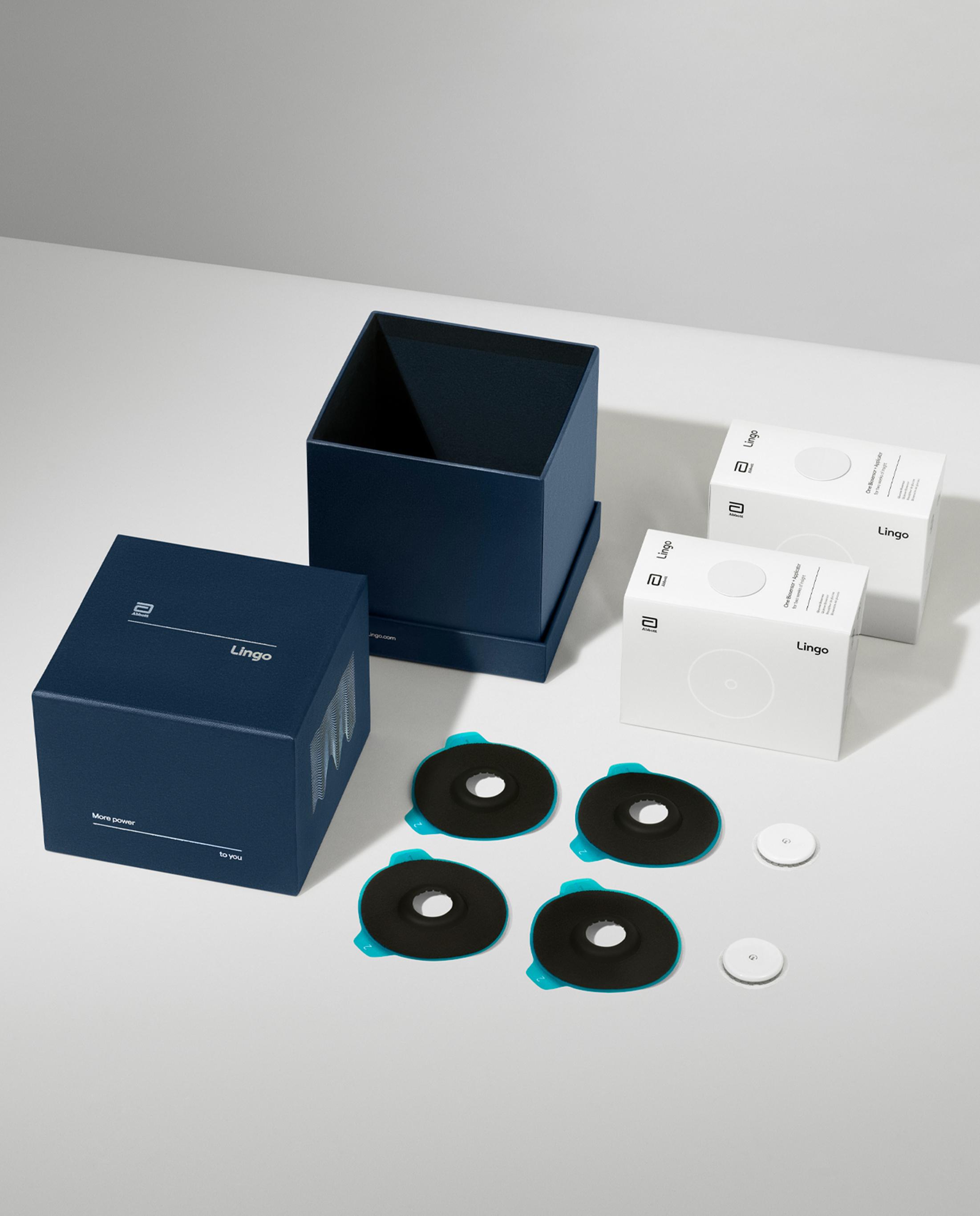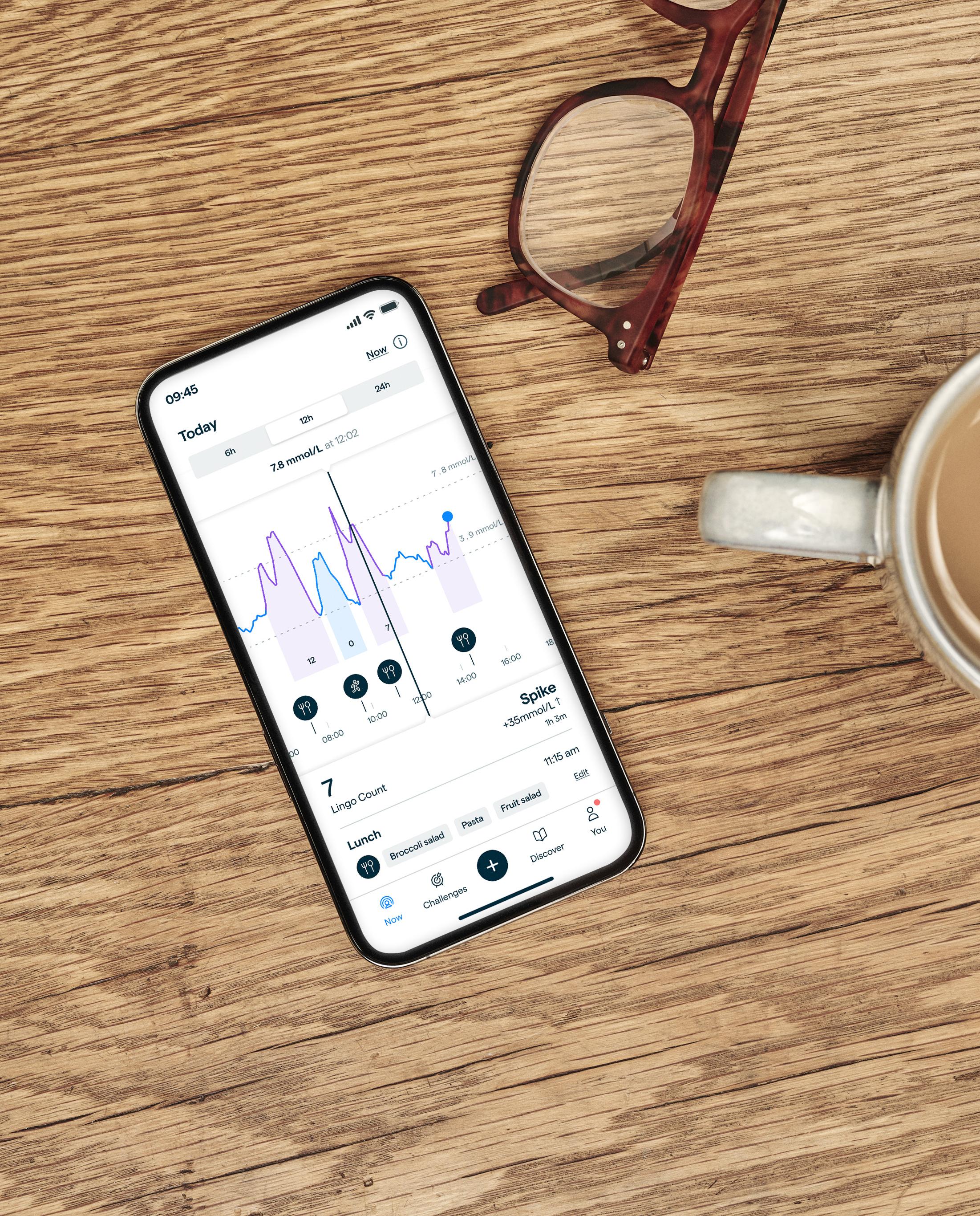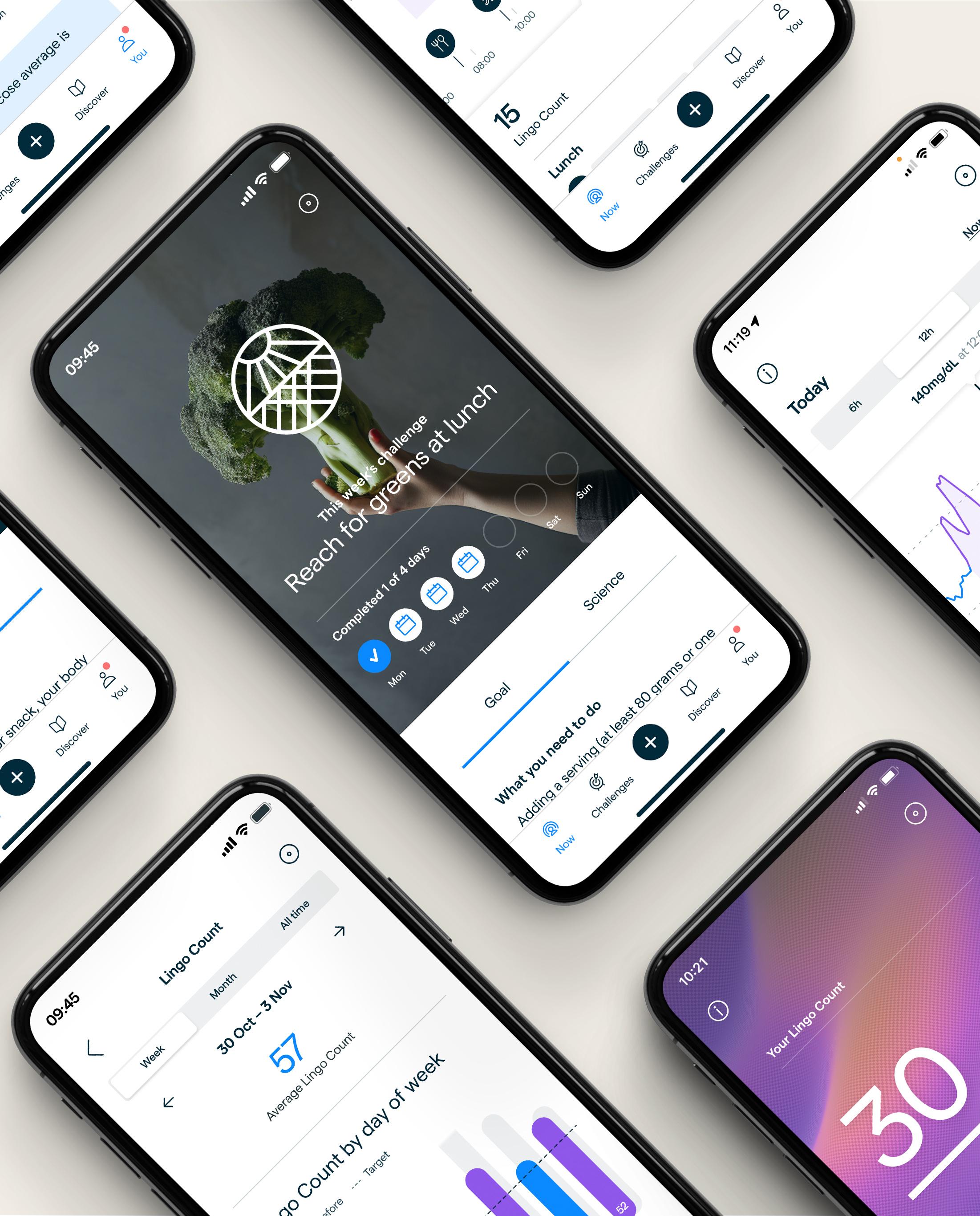 How your subscription works
Get 2 months of access to your Lingo Plan (£300 upfront)
Your plan will auto-renew at £120 per month
Your auto-renewal can be cancelled at any time by going to your account settings
Enjoy invite-only access to the Lingo community forum and coaching webinars
Lingo biosensors are based on state-of-the-art continuous glucose monitoring technology pioneered by Abbott
Water resistant up to one metre for 30 minutes
Possible to wear during sleep, workouts, swimming and showering
Works at temperatures up to 45°C
Operates at up to 10,000 ft
Wearable for up to 14 days
Make sure you download the Lingo app before you apply your biosensor for the first time. The Lingo app is accessible on iOS 14.5 or up. It is not compatible with iPhone X and below.
Benefits to improve your well-being. For good.
Abbott's market-leading glucose monitoring technology and our proprietary Lingo Count algorithm combine to help you better understand your metabolism and live a healthy lifestyle.
Struggling with low energy? Managing your glucose curve can be an effective way to improve your energy levels. People following a low glycaemic diet have reported feeling

20% less fatigue

than those following a high glycaemic diet.*
Are you really hungry? Research shows that seeing your real-time glucose data could help you understand the difference between

feeling hungry and just a passing craving

.*
Can you steady your mood? Balancing your glucose can curb a poor mood and improve your mood. One study found that people who ate a high-glycaemic diet had a

55% higher report of poor mood

as compared to people who ate a low-glycaemic diet.*
Could you be more rested? Small adjustments to your daily routine can impact sleep. Evidence is emerging from clinical studies that adopting habits known to support steady glucose levels, may

lead to better sleep

. In turn, better sleep quality may also help you keep your glucose steady.*
Stay focused by analysing your food and lifestyle habits and managing your glucose levels. One study of more than 3,000 young adults showed that those with unsteady glucose levels had diminished memory and processing speed 25 years later.*
ALB-00240 v3.0
* Please see references

here.
Press and Partners
© 2023 Abbott. All rights reserved. Lingo and related marks are marks of the Abbott group of companies. Other marks are the property of their respective owners.
Lingo Sensing Technology Unlimited Company is a private Unlimited Company with registered number 731659. Our registered office is at 70 Sir John Rogersons Quay, Dublin 2, D02 R296, Ireland.
The Lingo system is not intended for medical use and is not intended for use in screening, diagnosis, treatment, cure, mitigation, prevention, or monitoring of diseases, including diabetes. The Lingo programme does not guarantee that everyone will achieve the same results as individual responses may vary. It is best to speak to your doctor for advise on starting any diet or exercise regime or if you have an eating disorder or a history of eating disorders.
Do not use Lingo if you are pregnant. Dietary advice and Lingo Counts may not be suitable for you if you are pregnant.